Submitted by

Tom Swiss

on Mon, 04/07/2014 - 09:24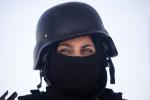 While Saudi Arabia still won't permit women to drive, Palestine is training female special operations soldiers. Yet the U.S. remains buddy-buddy with the Sauds while refusing to recognize the existence of Palestine.
The 22 future commandos are trailblazers in a still largely male-dominated society, set to become the first female members of the Presidential Guards, a Palestinian elite force of 2,600 men. Their inclusion is the result of gradual changes in the West Bank in recent years.

Some gender barriers have fallen, with a few women assuming posts as mayors, judges and Cabinet ministers or starting their own businesses. At the same time, unemployment is on the rise, and families are more open to women entering non-traditional jobs if it means another paycheck.

Women make up just 3 percent of 30,000 members of the Palestinian police and other security agencies in the West Bank, but there's a push to recruit more, said Brig. Rashideh Mughrabi, in charge of gender issues in the National Security Forces.