Submitted by

Tom Swiss

on Fri, 04/11/2014 - 20:54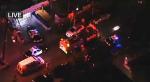 How dare he run away from a man with a knife? Obviously undertrained and underqualifed cops would view that as threatening behavior.
The Los Angeles County Sheriff's Department acknowledged Thursday that its deputies mistakenly shot and killed an aspiring TV producer earlier this week while responding to a stabbing and hostage standoff in West Hollywood.

Sheriff's officials said deputies believed John Winkler, 30, was the attacker when they encountered him at a Palm Avenue apartment complex Monday night.

In fact, he was one of three hostages being held inside an apartment by a man with a knife.
More and more it seems like calling 911 to deal with violent crime is likely to make a situation worse. Too many cops are simply incompetent or ill-intentioned, and too many police forces have a culture of corruption and silence, with no intention to improve the situation.