Submitted by

Tom Swiss

on Mon, 04/07/2014 - 09:54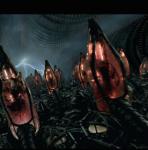 Eric Garland writes on how the musical instrument business is "a microcosm of every other problem in the global economy":
This is the logic at play with Guitar Center. Financial parasites have taken over the host company and could not care less about the industry itself. They install some CEO who used to be selling DVD players. They swap private equity firms in and out. It doesn't matter – it's just another place for loose capital to suck out a few extra dollars or a tax break. After all, the entire value of the company is less than what JPMorgan paid in fines last year without breaking a sweat.

In the final analysis, this is less about business sense and more about business domination. There are dozens of industries that have been locked up by a few players in this way: mortgages, cars, pharmaceuticals, retail, you name it. Since the chances of antitrust suits under "leaders" like George W Bush and Barack Obama are so low, the tiny tranche of society with all the money can run a time-worn playbook – consolidate companies, squeeze vendors, push manufacturing overseas, lower wages, wash, rinse, repeat, discard. The numbers of the business – which suck in GC's case – do not matter as much as control of yet another industry. As long as you have dominance over an industry, your positions are hedged for risk automatically because there is no other game in town – or at least people believe that. In the meantime, you get management fees, income from bonds, the occasional IPO payout.

...

All of this cold-blooded nonsense stands in stark contrast to the amazing people I have met in every other corner of the industry, including the actual long-time employees of Guitar Center who have reached out to me. I have had the tremendous honor to speak with inventors, entrepreneurs, retailers and fellow musicians about current events and I have been astonished by their intelligence, kindness, creativity and overall sense of humanity. All of this is diminished by the presence of these rapacious colonialists and it is time for them to take their leave of our economy, starting with the musical instrument industry.