Submitted by

Tom Swiss

on Sat, 07/19/2014 - 15:09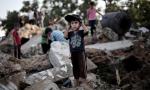 Of course fossil fuels aren't the only reason for the conflict; a century of invasion, theft, oppression, war crimes, and "terrorism" on both sides, creates plenty of momentum of its own, and add in the fact that some of these people think that their god promised this piece of real estate to one ethnic group or another, and there's already plenty of mess. But add gas fields to the equation and it becomes clearer why we can't even have a sane dialog about the topic.
According to Anais Antreasyan in the University of California's Journal of Palestine Studies, the most respected English language journal devoted to the Arab-Israeli conflict, Israel's stranglehold over Gaza has been designed to make "Palestinian access to the Marine-1 and Marine-2 gas wells impossible." Israel's long-term goal "besides preventing the Palestinians from exploiting their own resources, is to integrate the gas fields off Gaza into the adjacent Israeli offshore installations." This is part of a wider strategy of:

"…. separating the Palestinians from their land and natural resources in order to exploit them, and, as a consequence, blocking Palestinian economic development. Despite all formal agreements to the contrary, Israel continues to manage all the natural resources nominally under the jurisdiction of the PA, from land and water to maritime and hydrocarbon resources."

...

Unfortunately, for the IDF uprooting Hamas means destroying the group's perceived civilian support base – which is why Palestinian civilian casualties massively outweigh that of Israelis. Both are obviously reprehensible, but Israel's capacity to inflict destruction is simply far greater.