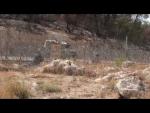 "In all cases examined by Amnesty International, Palestinians killed by Israeli soldiers did not appear to be posing a direct and immediate threat to life. In some, there is evidence that they were victims of wilful killings, which would amount to war crimes." Yet in spite of evidence of war crimes, the Obama administration wants to send $3,100,000,000 dollars in military aid to Israel
Israeli forces have displayed a callous disregard for human life by killing dozens of Palestinian civilians, including children, in the occupied West Bank over the past three years with near total impunity, said Amnesty International in a report published today.

The report, Trigger-happy: Israel's use of excessive force in the West Bank, describes mounting bloodshed and human rights abuses in the Occupied Palestinian Territories (OPT) as a result of the Israeli forces' use of unnecessary, arbitrary and brutal force against Palestinians since January 2011.