Submitted by

Tom Swiss

on Sun, 04/20/2014 - 11:04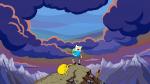 I dunno about the French literary theory bit, or the bit about Bellini, but I found Adventure Time on Netflix two months ago or so and love it. If you haven't seen it, you owe it to yourself to check it out. Maria Bustillos takes a long deep look behind the scenes.
Adventure Time is a smash hit cartoon aimed primarily at kids age six to eleven. It's also a deeply serious work of moral philosophy, a rip-roaring comic masterpiece, and a meditation on gender politics and love in the modern world. It is rich with moments of tenderness and confusion, and real terror and grief even; moments sometimes more resonant and elementally powerful than you experience in a good novel, though much of Adventure Time's emotional force is visually evoked—conveyed through a language of seeing and feeling rather than words.