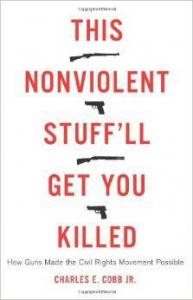 When you try to disarm the populace, you don't disarm the privileged; not only do they have state guns to call upon, they get themselves exempted from the prohibitions. (See, e.g., how Trump and Feinstein have CCW permits despite living in restrictive states.) And you don't disarm determined criminals; guns will never be harder to get than heroin is, and anyone with a couple of bucks and a willingness to break the law can get that.
You disarm those in need of protection, those who don't get police protection.
If you don't know about the key role guns played in the American struggle for civil rights, how black people engaged in justified armed self-defence against violent racists , you don't have an informed opinion about either gun rights or racial equality. You can fix that by reading Cobb's book.
And if you think that the need for citizens to have access to the means to resist violence -- either freelance violence or state violence -- ended with the 1960s, you're not well-acquainted with the world.
Armed self-defense (or, to use a term preferred by some, "armed resistance") as part of black struggle began not in the 1960s with angry "militant" and "radical" young Afro-Americans, but in the earliest years of the United States as one of African people's responses to oppression. This tradition, which culminates with the civil rights struggles and achievements of the mid-1960s, cannot be understood independently or outside its broader historical context. In every decade of the nation's history, brave and determined black men and women picked up guns to defend themselves and their communities.