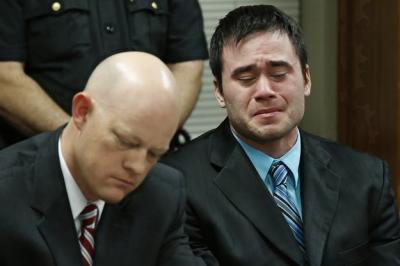 When you create a criminal class by means of laws prohibiting consensual acts, you create a class ripe for exploitation by cops. The blame for this lies not just with the monstrous Holtzclaw and whoever of his colleagues covered for him and maintained the blue wall of silence, but with every legislator who voted for criminalizing drug use and prostitution and every voter who supported such laws.
Former Oklahoma City Police Officer Daniel Holtzclaw has been found guilty of multiple counts of rape — first and second degree — as well as sexual battery, procuring lewd exhibition, and forcible oral sodomy.

Holtzclaw has been on trial since Nov. 2. He was accused of sexually assaulting 13 women in the community he patrolled from December 2013 to June 2014. His 36 charges ranged from stalking and indecent exposure to forcible sodomy and rape. Of the 36, he was found guilty of 18.

...Prosecutors say that Holtzclaw deliberately chose women he thought were unlikely to be believed — black women with criminal records from an impoverished neighborhood.

Six of the women alleged that Holtzclaw raped them — he was found guilty of four of the six charges. He was found not guilty of a handful of the lesser charges, including two rape charges, one rape by instrumentation charge, four sexual battery charges, three forcible oral sodomy charges, five procuring lewd exhibition charges, and one charge each of burglary, stalking, and indecent exposure.

...

The defense pointed out that most of these women had criminal records — charges related to prostitution, drugs, assault and battery — and that some had provided police over the years with multiple aliases, social security numbers, phone numbers, and birthdates.